ABOUT PHYLLANTHUS
Why Phyllanthus?
More than 400 million people worldwide are chronically infected by the hepatitis B virus (HBV). 82% of the world's 530,000 cases of liver cancer per year are caused by virus hepatitis infection, with 316,000 cases associated with hepatitis B. HBV infection is one of the commonest infections in the world. According to World Health Organization (WHO), a third of the world's population (2 billion people) has been infected with HBV and about 5% are chronically infected. Chronic hepatitis B can causes cirrhosis and liver cancer. Despite the availability of antiviral therapy, there are more than a quarter of people with chronic hepatitis B will die of liver disease and more than 1 million people with infection are estimated to die every year.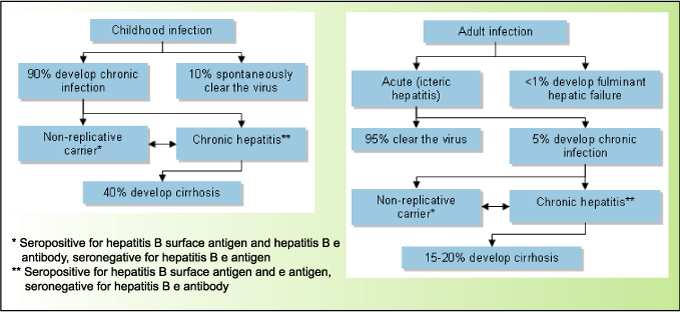 Natural course of primary hepatitis B infection acquired during childhood or adulthood
Phyllanthus contains more than 50 compounds, which explains its broad range of activity from liver protection effect to antiviral activity, blood sugar reducing effect to cholesterol lowering effect. It is believed that tannins, might account for the antiviral effect and the flavonoids, is responsible for the beneficial effect against liver toxicity. It is the combined activity that might be responsible for its polyvalent therapeutic actions, which are essential for treating disorders of multifactorial origin.
One of the active constituents is a phenolic compound known as corilagin. It has been proven as a potent anti-hepatitis B viral agent. Although it is too early to understand how to unravel the cellular and molecular mechanisms that underlie the therapeutic actions of Phyllanthus extract, these are some possible modes of action of how Phyllanthus exerts its therapeutic actions:
Inactivation of HBsAg
Inhibition of RNA polymerase and RT
Hepato-protective, and
Immuno-modulation activity1
2. Because limitation of lamivudine
In 30% to 50% of patients taking this drug, the hepatitis B virus eventually develops viral resistance (YMDD mutation), resulting in a lack of success over a treatment period of 1 to 2 years.
The appropriate length of treatment with these antiviral agents is unclear. Most hepatologists prescribe them indefinitely.
3. Because limitation of interferon
Interferon may not be effective in lowering the hepatitis B viral load.
Interferon may be relapses after treatment is completed.
4. The role of Phyllanthus in the management of hepatitis B infection
It is a potent liver protection agent
Guangzhou study has reported that Phyllanthus offers the following advantages and benefits:

When Phyllanthus was used alone for hepatitis B patients with 4 capsules, 3 times a day, it offered ...
When Phyllanthus was used in combination with lamivudine, it showed that:

HBeAg
DNA
Mutation - resistant strain reduced.
---
Ignacio S, Ferriera J, Almeida M, et al. Nitric oxide production by murine peritoneal macrophages in vitro and in vivo treated with Phyllanthus extracts. J. Ethnopharmacol. 2001. 74: 181-187.